Do you wish to take your dog on your next trip to Canada? The mere thought of it might make you squeamish if you haven't done it before. But, there's nothing to worry about. It's a common myth that you must be well versed in hockey to get your pets to Canada. However, the right documentation will give you and your dog easy access. So, what do I need to take my dog to Canada? We'll start with the cost:
How Much Does It Cost to Travel With Your Pets to Canada?
The cost involved is determined by factors such as the mode of transportation- by road or air. If by air, it also depends on some specifications such as:
The airline
Pets in the cabin
Pets in checked baggage
Pet food
1. The Airline
Surely you know different airlines have their airfares. My focus will be on Air Canada's fares for the subsequent factors below.
2. Pets in the Cabin
Entering Canada on a one-way flight will cost you within the range of $100-118 in pet fares.
Air Canada accepts small-sized dogs in their cabin if their combined weight of the furry fellows and their carriers is less than 22 pounds.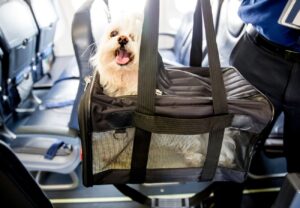 Your dog is regarded as part of your carry-on language and should be positioned beneath the seat you're behind for the entire flight period. Make sure to bring enough travel supplies when you travel with your doggie, such as a carrier backpack, portable water bowl, and calming treats.
3. Pets in Checked Baggage
Pet fares for a one-way flight will cost you within the range of $270-318.
Pets to travel on the flight shouldn't exceed 100 pounds. Each dog owner is allowed to go with a maximum of 2 pets, but they are charged distinctly.
However, there is a catch. If the temperature in the hold is too cold, pet travel may be denied.
What Documentation Do I Need?
Taking into account factors such as the age and breed of your pet, you'll need at least one of the following documents:
Rabies Vaccination
Health certificates from a licensed veterinarian
Additional vaccinations
Import permit or license
CITES permit
Microchip
Pet passport
Can My Dog Get Across to Canada by Car?
With proper documentation and adequate vaccinations, why not?
Your dog will be guaranteed access across to Canada if the following conditions are fulfilled:
They've had the Rabies vaccination within 30 days (Subject to some nuances, though).
They look very healthy and pose no threat of transmitting diseases.
Dogs that are periodically vaccinated can gain access into Canada, even if it has been more than 30 days since they were vaccinated against rabies. They must receive the vaccination at least 30 days before travel. This will show they have a current rabies vaccination. Matured dogs above 15 months of age that have been previously vaccinated at no less than three months old may gain immediate access after a booster vaccine. There is no need to wait for 30 days.
Dogs that provide service and assistance to disabled owners can go across the border without any documentation at all. However, service or guide dogs entering Canada without their owners or alongside other individuals tend to be subjected to the same check-in process as normal dogs.
Your dogs would need proof of rabies vaccination to cross the border.
Do the Requirements Mention Above Apply to My Puppies?
If your puppies are less than three months of age, proof of vaccination isn't necessary for entering Canada. What is required, then? As stated above, your pet has to leave Canada within 30 days.
If you intend to stay longer than that with your puppy, schedule an appointment with a veterinarian for a rabies vaccination at least 30 days before your departure date.
The bottom line is that your puppy can get access to Canada without rabies vaccination.
What Should Be Listed on the Rabies Vaccination Certificate?
Like I said earlier, to get your dog across the Canadian border, you will require documentation, including proof of rabies certificate.
So what's to be listed on this rabies vaccination certificate?
Licensed veterinary center
Trade name
Date of vaccination
Date of Vaccination expiration
Signature of the veterinary doctor
Pet owner's name and address
Sex of the pet
Dog description (what breed is it, skin color, markings, and weight stats)
Vaccine product information
How Can I Get My Dog a Pet Passport to Enter Canada?
A pet passport functions exactly just like a health certificate. It is proof that your dog is in good health and lacks any necessary vaccinations or treatments. Your pet- dog or cat can't travel without a pet passport. However, attempting it will subject to your dog spending a very long time in quarantine.
So what are the steps or processes involved in acquiring a pet passport?
First Process
Conduct research and verify the requirements or documentation for entering Canada and the mode of transportation.
Your dog has to fulfill the travel requirements of both Canada (the travel destination) and the transporter (airline, shipping firm, or road travel requirements).
Second Process
Contact your vet and make an appointment for your dog to get all the required shots or vaccines, as this will reflect in its pet passport and health certificate. This process is to ensure your pet is rabies-free:
This process will involve:
Inserting microchips or drawing tattoos to identify your pet
Administering the rabies vaccine to them. In addition, the vaccine has to show in the dog's bloodstream, which will be confirmed with blood tests.
Removal of ticks, fleas, and parasites
Third Process
If necessary, you should get the travel certificate of your dog verified by the United States Department of Agriculture (USDA).
After the second process, the licensed veterinarian usually issues a health certificate. It's as important as an import permit. However, the health certificate is not sufficient to give your dog a free pass to enter Canada. Why?
Some airlines want to see a certificate issued or approved by the USDA. Postal service or courier are the ways to send it. An alternative method is a personal delivery. It is advisable to reach out to the nearest USDA vet service for help.
You should also research the documentation required for leaving Canada.
Last Words
Bringing your dog on your trip to Canada will be totally worth it. You will find great places to take your dog for walks and many pet-friendly accommodations across the country.
Watch the short video clip below to get some last tips for flying with your dog stress-free:
I hope this article has equipped you with sufficient information on the process and documentation required for your dog to enter Canada. Now you know the tips on traveling and what Canada does not require.